Exporters and importers have always needed regular updates to stay informed about ongoing developments in our industry. They want to know about new notifications and how these changes might impact their operations. They also seek to understand the potential benefits and drawbacks, as well as the necessary compliance steps to take. Having access to this information on a regular basis allows them to make well-informed decisions.
Keeping this demand of the Exim industry in mind, we are launching a new series that is the first of its kind. In addition to our regular conceptual and informative blogs, every Tuesday. In this blog, we will present all the significant updates from the previous week in a concise and straightforward manner. This series will be particularly beneficial for new Exim startups, import-export business owners, and professionals working in the Exim field. So, let's begin.
We have guided numerous new exporters and importers through the process, helping them execute their export and import shipments. We have provided assistance in areas such as DGFT, Customs, Banking, Logistics, and Export Incentives. For more information, please reach out to us directly via phone or email for any inquiries.
General News
The Ministry of Finance has rejected the proposal to reduce the basic import duty on solar cells and solar PV modules. This proposal was put forward by the Ministry of New and Renewable Energy.
Currently, there is a basic customs duty of 40% on solar modules and 25% on solar cells.
India and Argentina are currently engaged in discussions to facilitate bilateral trade transactions using their respective local currencies. Argentina, a South American country, is already conducting trade with China in Yuan. Due to Argentina's challenges with US Dollars, they are also interested in conducting transactions using their own local currency.
DGFT Important Notifications
Some of the important notifications for the week have been discussed:
 As you all are aware, the Directorate General of Foreign Trade (DGFT) has reclassified the import of Laptops, Tablets, All-in-one Personal computers, ultra-small form factor computers, and servers falling under HSN 8741 from "Free" to "Restricted" category. This move has been taken to promote domestic manufacturing. Initially, DGFT had implemented this with immediate effect, but after significant chaos, it has now been decided to enforce it from 1stNovember 2023.
DGFT has added the AYUSH Export Promotion Council to the list of Export Promotion Councils. You can see in the image the list of export items that will now fall under the AYUSH Council.
(AYUSH Export Promotion Council)
In Notification No. 24 dated 3rdAugust 2023, the DGFT has regularized the RODTEP benefit for 18 HS Codes falling under Heading 5208. Therefore, exporters dealing with products classified under Heading 5208 should take note of this notification and read it carefully.
The DGFT had previously allowed the export of Wheat flour (Atta) under the Advance Authorisation Scheme as per SION Serial No. E-136. Now, according to the latest notification, DGFT has also permitted the export of "Wheat flour (Atta) with Millets" under this same SION Serial No. The condition is that the export item must contain a minimum of 65% whole wheat flour and a minimum of 15% millets, in addition to other ingredients. Furthermore, at the time of export, exporters are required to clearly indicate the percentage content of whole wheat flour, percentage content of millets, and the percentage of other ingredients on the shipping bill.
The DGFT has extended the deadline for the implementation of Track and Trace for the export of pharmaceutical formulations, and the new deadline is now 01.02.2024.
Watch this video on Export Import [EXIM] Business Weekly Updates – General News | New Notifications | 01 to 06 August 2023
CBIC Important Notifications
Important CBIC Notifications are discussed:
Exporters of pan masala, tobacco products, hookah tobacco, and similar items will no longer receive automatic IGST refunds starting from 1stOctober 2023. This means that they will now have to approach the jurisdictional GST office for refunds.
The CBIC has issued a notification to impose anti-dumping duties on "Optical Fibre" for a duration of 5 years. This anti-dumping duty will be applicable for imports from China, Indonesia, and Korea. This decision has been taken to safeguard the domestic industry.
International Logistics & Freight Rates
You can see in the image the export freight rates for selected trade routes, which are indicative in nature.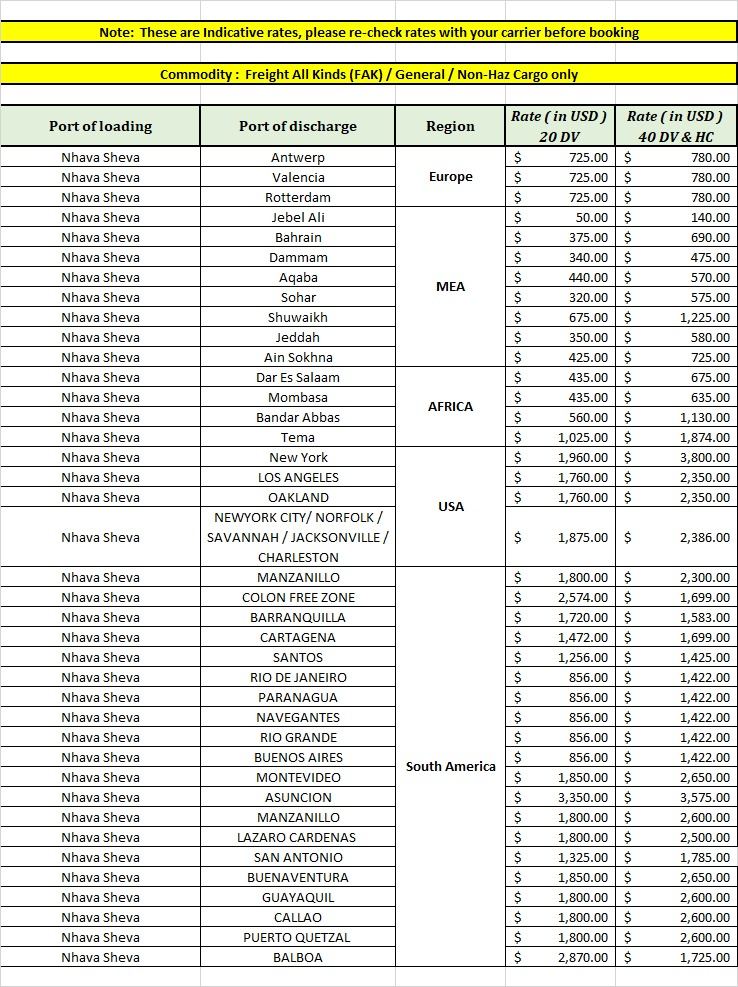 (export freight rates)
According to carriers, the rates on the India-US trade route are increasing, while on other trade routes, the rates are consistently decreasing.
MSC is planning to implement a General Rate Increase [GRI] for India to USA exports from 1st September. The GRI will be USD 450 for a 20 ft. container and USD 500 for a 40 ft. container.
Maersk Line has predicted that this year, there will be a sluggish demand for container shipping due to the global economic slowdown.
Who are We & Why choose us?
We at AFLEO Group, are a team of DGFT & Customs Experts having a rich experience of 10+ Years in Exim Consultancy & International Logistics [Freight Forwarding] and also deal in Buy/Sell/RODTEP/ROSCTL/DFIA License With our vast knowledge and experience in this field we can represent your case for all the activities pertaining to the Tariff Rate Quota and get it in a hassle-free manner. We are well-equipped to handle the logistics of global trade with efficiency and expertise. Let us handle the logistics while you focus on growing your business. Contact us today to learn more about how we can help you streamline your supply chain and increase your bottom line. We are dedicated to providing efficient and cost-effective logistics services to help our clients.
So do get in touch with us for any of your requirements and our team will be happy to help you.
We request you to share this information with your other Industry friends, Trade associations, as this information might help them as well.